January 2018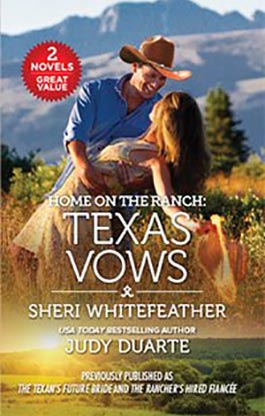 Featuring The Rancher's Hired Fiancée by Judy Duarte and The Texan's Future Bride by Sheri WhiteFeather
FAKE FIANCÉE...TRUE ROMANCE!
The Antonio Banderas look-alike standing on the porch in Western gear wasn't at all what actress Catherine Loza had expected. But when the tall, dark and totally irresistible rancher asked her to play the role of his fiancee to get the local matchmakers off his back, well...it was an offer the actress couldn't refuse.
Brighton Valley mayor Ray Mendez thought he'd come up with the perfect plan. But as his fake engagement awakened stirrings of real romance-and real passion-he soon found himself wondering if he could persuade his costar to make their arrangement of convenience permanent. A proposal from the heart-and a baby on the way!-might just convince her that he was for real....