April 2010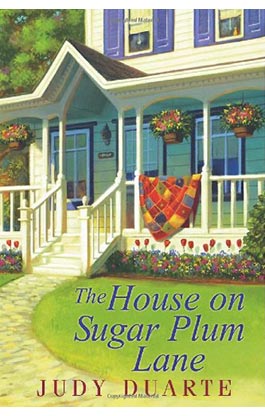 Mulberry Park Book 3
In her unforgettable Fairbrook novels, Judy Duarte has created a town that's as warm and as welcoming as home. In The House on Sugar Plum Lane, old friends and new characters mingle in a poignant story of second chances, new beginnings, faith, and family.
The beautiful Victorian house that Amy Masterson decides to rent, fully furnished, is more than just a place to start over with her young daughter. When Amy learns that the three-story house on Sugar Plum Lane belonged to her great-grandmother, Eleanor Rucker, who Amy's mother had been searching for until her recent death, she hopes she can find a window into the past her mother never found.
As Amy settles into Fairbrook, she's stunned to learn that Ellie Rucker still lives on Sugar Plum Lane, cared for by Amy's neighbor, Maria. But Ellie's mind is failing rapidly, her memories fading with each passing day. She shows no hint of recognition when her great-granddaughter introduces herself, and Amy is heartbroken at the chance they've both missed. But it's never too late to hope--or to trust in bonds of love that, though they cannot be seen, can never be broken...