February 2004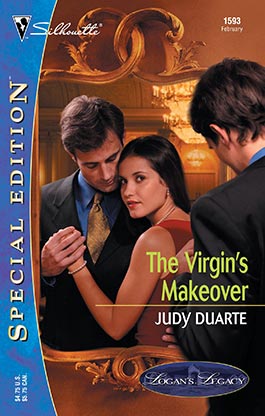 MIXING BUSINESS WITH PLEASURE
The moment Sullivan Grayson stepped in to help save her family's fledgling vineyard, Lissa Cartwright's life went from ordinary to extraordinary. The sexy entrepreneur made her pulse race, but the plain-Jane businesswoman knew she'd need a makeover to catch his eye. Then, as things between them began to heat up, a visit from a stranger turned Lissa's world on its axis...
Sullivan had known a lot of women...but none had ever affected him the way Lissa did. When news from her past shattered her present, Sullivan vowed to stand by the down-to-earth beauty. Was it possible that loving Lissa would complete the makeover his own life so desperately needed?
Logan's Legacy: Because birthright has its privileges and family ties run deep
PROLOGUE
Portland, Oregon—1976
"I'm pregnant."
Jared Cambry's gut clenched as he looked at Olivia in disbelief. "But we only did it once. Are you sure?"
The sixteen-year-old blonde glanced down at her worn leather sandals and kicked at a dandelion that grew in the grass at the park where they'd met. She looked up and caught his gaze. "Yeah. I'm sure."
Jared wanted to bolt, wanted to call her a liar. Instead, he blew out a ragged breath. "I don't know what to say."
"I was surprised, too," she said. "I guess neither of us planned on having a baby."
She could say that again. He'd just been accepted to Arizona State. And last time his parents had taken him to visit, the football coach had said that he had a good shot at a quarterback position in the fall—maybe even first string.
He looked at the teenage girl who'd just given him the worst piece of news he'd ever heard.
"I know we're young," Olivia said.
Young? Heck, he'd only had his drivers' license for a little over a year. And though old enough to drive, she still rode a bike. They should be thinking about college. And summer vacation. Not a baby.
Besides, it's not as though they'd ever dated. They'd met at a party a couple of months ago, and it had just happened.
Two weeks before the party, he and Megan Phillips, a pretty, redheaded cheerleader he'd gone out with since the fall, had broken up. He was still nursing a broken heart and a wounded pride. And he wasn't in the party spirit—until Olivia had come along, holding two glasses of cheap, fruit-flavored wine.
Olivia had a pretty smile and a way of making him forget about the obnoxious college guy Megan had dumped him for.
Neither of them had been virgins, but the experience had still been awkward. And Jared had a feeling she'd been disappointed.
He'd driven her home afterward, and they'd exchanged phone numbers. But he hadn't called her. And when she'd asked him to meet her today, he'd been surprised.
"We could maybe date for a while, get to know each other better," she said.
They could date? His mom and dad would come unglued if he brought home a girl from the wrong side of the tracks. They had their hopes set on their only son meeting a debutante, or at least someone whose parents belonged to the country club set.
And even if Jared was willing to go out with Olivia, his family was relocating to Scottsdale about the same time he moved to the dorms at ASU. They said the move was for business purposes, although he suspected they wanted to be near their only child in Phoenix.
"What are you thinking?" she asked, eyes snagging his and demanding some kind of answer.
Heck, he was thinking about all kinds of things. College. Playing football. Maybe taking some pre-law and business courses.
And the sudden realization that his once charmed life was going to hell in a broken-down baby buggy.
Only one solution came to mind. "I'll pay for an abortion."
"What?" Olivia asked, voice raised an octave.
"An abortion. I'll get the money. And I'll drive you there and wait while it's done. That way, your mom won't find out."
"No way. I know having a kid isn't convenient for either one of us. But I'm keeping this baby."
She couldn't be serious. Olivia and her mom lived in a rundown, rusted-out trailer on the outskirts of town. How the heck was she ever going to raise a kid?
And even if he got a part-time job flipping burgers while attending school, he wasn't going to be able to contribute too much. Her keeping the baby was a bad idea—for both of them.
"You've got your whole life in front of you," he said. "Why would you want to tie yourself down?"
"Because babies are a blessing. And God wouldn't have let me get pregnant if there wasn't a good reason for it."
Jared rolled his eyes. He didn't think God had anything to do with the mistake they'd made. And he couldn't see how having a kid at his age would bless his life.
Not now.
Not ever.